UPDATE: March 2021.  I am presently using WP Rocket (again).  Breeze seems to be working fine, but there was small period in 2020 where my sites were experiencing long Time to First Byte.  WP Rocket introduced a few useful additions for me such as deferred loading videos scripts and optimized google fonts. I still think Breeze is a good option.
After three months of testing I've moved all our client sites to the (free from the WordPress Repository) Breeze Cache plugin from Cloudways.  Here is why and how we use it.


My main reasons for the move to Breeze were:
On my tests it was one of the fastest particularly with NGINX servers (also repeated this report).
It's simple for clients and blends in with the WordPress UI.
 It's free and I have not encountered any issues.
We moved from WP Rocket because:
They removed white labeling and as we used it this stopped updates coming.
 Advertising of their other products on our client sites and the change to a new branded UI.
It was not faster than Breeze on my servers so the cost were no longer justified.
We recently had some layout issues on sites.
An increased number of settings for clients over the years.
Important:  I believe WP Rocket is still a great solution which outperforms Breeze on other servers and offers more.  However, I was facing a second time with WP Rocket where I needed to manually make changes across all sites.  As renewal was due soon it seemed a good time to re-evaluate. Of course, one good thing about paying for a solution is there is greater chance of getting update which is to be seen with the Breeze plugin.
I also tested Swift Performance. It was undoubtedly the fastest (as also shown here) of those tried, but I found the free version was heavy on the servers CPU and there were too many options for my clients.  I also had one layout issue, but if your priority is shaving off the most milliseconds , this is one to check out.
WP Fastest Cache was also recommended to me, but I found it much slower on my  server tests. The same was true with Super Cache which I used regularly before WP Rocket.  Many years back I tried W3 Total Cache.   Probably due to my ignorance it gave me problems so it was not considered. That concludes my cache plugin experience.
My Breeze Cache setting
My settings are specific to my requirement as someone who encourages client to make content updates with Beaver Builder. It also takes into account that I am using only NGINX servers via Cloudways and also with Digital Ocean and ServerPilot.
I adjust the purge time according to the volume of traffic and how often I expect the client will use the page builder.
I don't presently use the Advanced Options. Concatenating CSS and JS have not proved to save me any signification load time. Also the plugin now exclude WooCommerces carts and checkout page. If using other similar plugins I may need to exclude certain URL's.
I  don't check Gzip compression as I understand NGINX  server do compression (and I see no improvement).
Update: The information from here may not be correct. On the whole ticking Gzip may be better if the gain is greater than the processing power needed to make that happen. I am likely to keep this unticked as I usually have plenty of bandwidth and less CPU available.
I untick Browser Cache too on sites where the page builder is used a lot. It significantly lowers the Google score, but do not affect a first visitor load time.
I minify HTML and CSS and notice a speed decrease and have never had an issue so far.
I don't minify JS due to some hard to find issues. I just don't have the time to test each site across all browser and devices.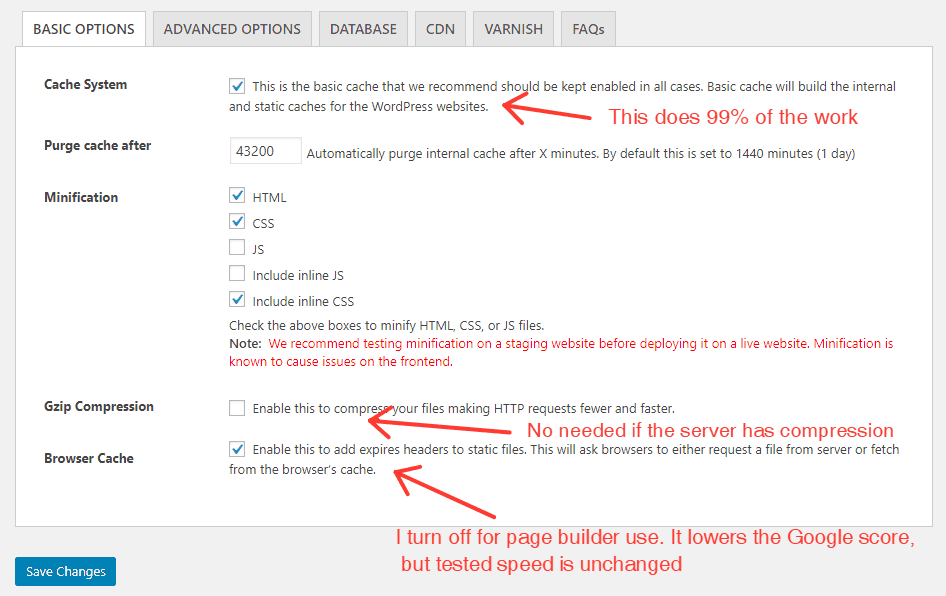 I untick Auto Purge Varnish. Varnish is on the server by default with Cloudway, but I turn it off due to some reporting issues with Beaver Builder (and I believe it is true with other Page Builders). Some report no issues at all.  As I can't measurably see a speed increase I play it safe.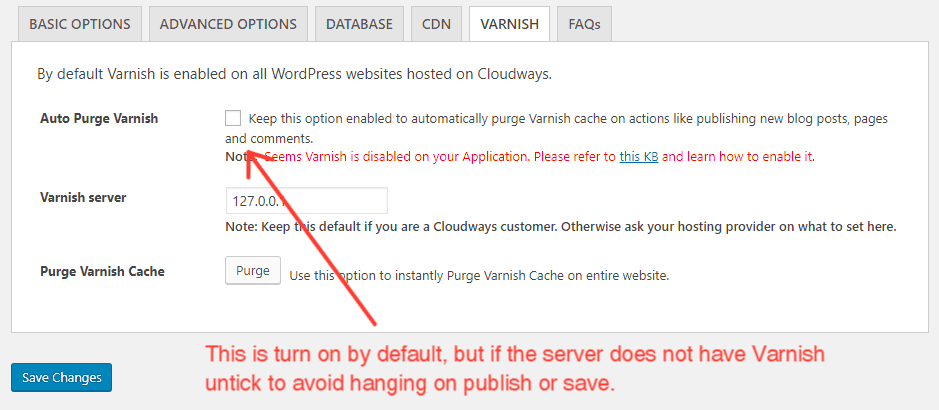 Finally, I wanted to say thanks to Clark Marshall (from Blue Dog Digital)  who was the first person I knew to move from WP Rocket to Breeze with a significant  number of client sites to manage and similar software. If you are a Beaver Builder user who use Cloudway too you wish to join his Facebook group where he's shared some tips like the ones above.
If you are considering trying Cloudway, I can recommend it and have used my affiliate link here, but here is the direct link too https://www.cloudways.com/
Over to you… What cache plugin do you use and why?