Digital Marketing is not just for those with deep pockets. Quite the opposite. It's about being an effective business in a digital age. Few can afford to ignore it, but most, including me, struggle with it.  The problem, I think, is that Digital Marketing is often not explained in simple and relevant terms. That's what I hope to do in this post with a tale of two businesses.
First, what is Digital Marketing?
Superficially Digital Marketing is a collective term for certain online activities aimed at finding and retaining customers.  It includes:
Search Engine Optimisation (SEO) or Search Engine Marketing (SEM)
Social Media Marketing  (Facebook, Twitter, You Tube etc.)
Content Marketing  (creating free resources blogs, ebooks, reports, video training etc.)
E-mail Marketing/Email List Building
Pay Per Click or Campaign Advertising (Google, Facebook advertising etc.)
There's a fair chance you have already done one or more of these. Facebook pages and blogs are often routinely set up (and abandoned) when businesses go online.  It's an indication that digital is viewed as something that can just be bolted on to existing marketing efforts.
It's why it fails. Digital Marketing is more than its range of activities. It is a whole philosophical shift in the way marketing is done. It's inevitable consequence of significant changes in consumer behaviour.
Last century technology brought us mass media broadcasting. It created the golden age of advertising. This century brings interactive communication. Communities where the participants are both the producers and consumers of content. Unlike mass media where the audience was passive, success with digital depends on understanding the actions and motivations of internet users. It demands a "customer-centric" approach. That, in my view, is what best defines Digital Marketing.  Another way to look at it is as a return to how marketing was before broadcasting.
Digital Marketing is more than its activities it's a philosophical shift in how marketing is done.
Click To Tweet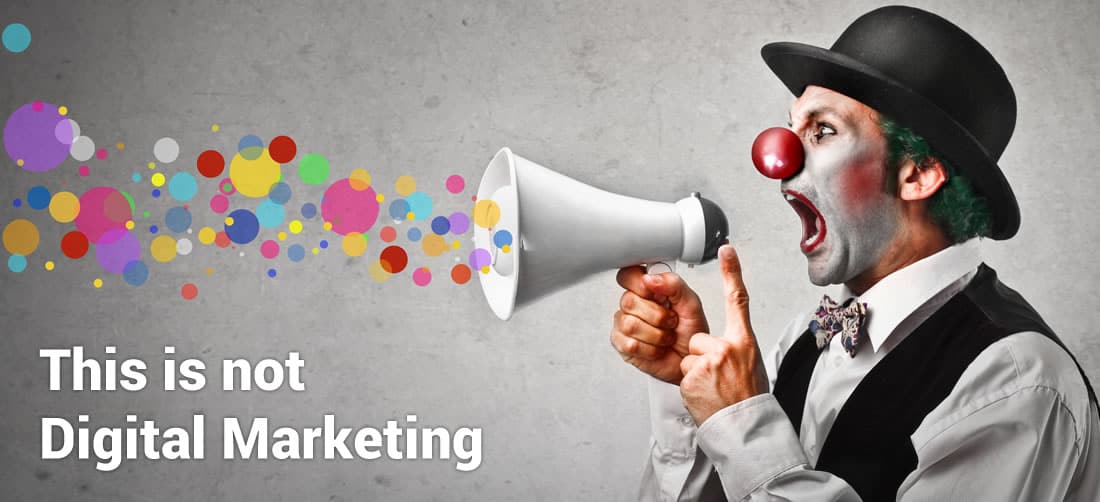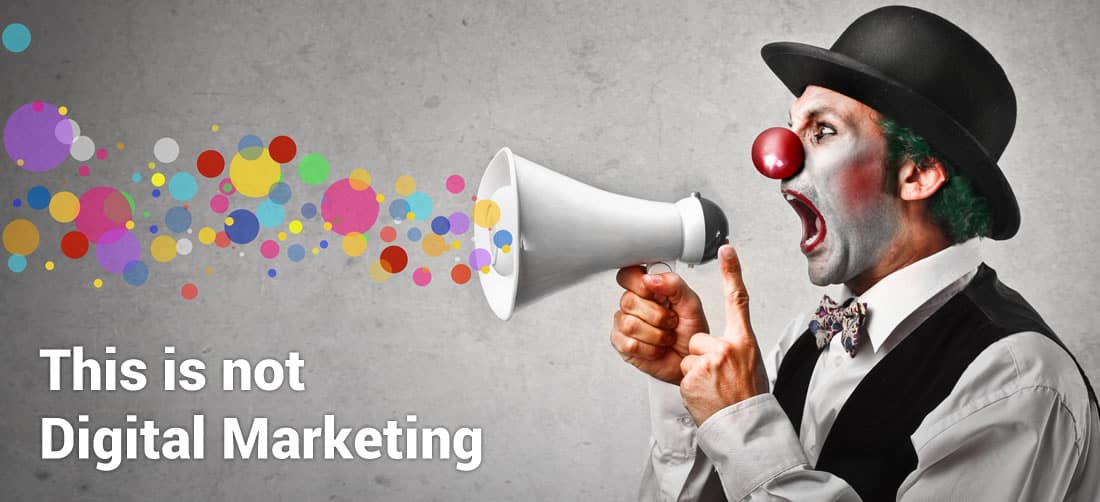 Enormous Opportunities for Small Businesses
At an Enterprise level the concept of "Digital First" has already taken hold. Budgets are rapidly being redirected away from mass advertising to Digital Marketing. It has not first been without its casualties.  HMV, Blockbusters, EMI music, Woolworth, Clinton Cards were all established companies who were too slow to recognise the impact of digital. They're gone  – replaced by newer companies who better understood the changes in consumer's expectations.
Retrospectively, we know all this happens when technology brings about a major social shift.  There are those who fight change, those who vigorously adopt the new and those who stick their head in the sand.  It's less easy to see which we are,  but small businesses are mostly falling  into the last category. In part because they don't know where to begin, but also they are not looking beyond (who they think is) their nearest competitors.
A Tale of Two Businesses
Let's take two (semi-imagined) businesses to show the difference between digital and traditional approaches. Mike and Mel both run yoga classes a few nights a week and want to go full time.
Mike's Traditional Marketing Approach
Mike's been in business before.  He's placed a few ads in the local papers and has posters in local shops. Last year he spent money on telephone directory listings. The pushy salesperson said he would be listed online too and business was guaranteed. He didn't get a single call. This year he's decided to put this money into a small website and has now set up a Facebook page.
So far he has not been impressed with Facebook. He sent invites to friends and family to like it, but many have not. He struggles to find new things to post and the competition for free classes he ran resulted in only one friend entering.
As he is location dependent he decides not to invest too much in the "World Wide Web". There's plenty of online articles about yoga so he does not see the point of blogging. Instead he's has some discount leaflets printed. Some are going to health shops, some to mailout of local households and some for customers to give to friends. He has also had a new logo created and has some new business cards printed.

Mel's Digital Marketing Approach 
Mel's never been in business. She used to suffer from anxiety, but thanks to a tip on an online forum she found yoga. It was life changing and she became a teacher.
She started by interviewing her existing customers.  Their stories were often similar to hers. In particular many had back troubles before eventually finding yoga. Like Mel, her target audience were searching for solutions to health problems rather than yoga.
She has a website and decides to focus on blogging aimed specifically at the health problems that yoga can solve. Instead of spending on printed materials she is using that saving to give her more time to write quality articles to help people.
She set up a Facebook and Twitter account.  For her website she produced a simple free guide called "5 easy ways to improve your health and happiness today".  This is available in exchange for an email address to build her email list. She has put herself on Google's free local directory and search engine optimized her website for her area. The search numbers are low (40 a month) for her area, but her competition (which includes Mike) was low. They had not optimized.


 Mike Two Years Later
Mike is still part time. With the competition from Mel he thinks there is not enough demand in the area for yoga to expand. Newspaper adverts have become less effective.  His leaflet drops did not produce enough interest to justify the cost. Notices in shops and recommendations still perform the best.
His website has been a useful addition. It's only brought a few customers, but he can leave it to do its job.  Facebook was a complete loss. He spent a year promoting his yoga classes there and never got a single customer. He tried Twitter for a while, but he had more contact from the competition (including Mel) than customers and decided it was a waste of time. He decides he will give his website a facelift. He's seen some others in his industry that look modern and upmarket.
Mel Two Years Later
Mel is now full time.  The easiest gain came from her free entry in Google local. A search for yoga in her area put her in top place because of it. Six months later her efforts with her sites SEO paid off. She's remained top in organic search since. She is the only one locally creating fresh and relevant content Google favours.  Also with links to her articles her domain authority is much higher than her competition.
Blogging was hard work. Initially she had few comments compared with Facebook. Fortunately, she could see visitors numbers were increasing and her reach was far greater than Facebook and Twitter.  Some articles took a lot of time researching and got few visitors – others were easy and still continue to attract more monthly visitors. Her story of how she started in Yoga has been popular so have the one's which match the question people type in Google.
With the social networks she first connected with as many people as she could in her own industry and with groups related to health problems. She took part in their discussion and promoted them. As she became trusted this increased the engagement on her own networks.  It also gave her ideas for her blog.  She was delighted to see her articles getting shared in health circles. Others have started to promote her in return for her promotion of others.
Her biggest problem was that she needed to attract local customers more than establish herself as the "go to person" on health and yoga.  A number of things helped there:
 Being sociable with other yoga instructor on their networks meant she was recommended to people moving to Mel's area.
As she was focusing on health issues she pick up those in her area before they had thought about Yoga.
Her blog and networks increased the perceived value of what she does helping with retention.
Her existing customers also liked to show off Mel's content to their friends getting them interested.
Mel's straightforward manner reached others who liked the idea of Yoga, but perceived it as something for hippies.
Her email list is growing because of her blog and free guide, but presently she is only sending people to new articles. It helped her get comments, feedback and ideas, but apart from boosting her presence on online it has not obviously had much impact on her business. In part her list is protection in case Google decides one day they don't like her site.

Mike 5 Years Later
Mike is now working for Mel.  A few years back he reached out to Mel to her to ask how she was so busy.  In his own mind he always thought of himself as a better instructor. She graciously shared some of her newer articles aimed at yoga instructors about how she ran her business with Digital Marketing.  Mike picked up a lot, but was unfortunately impatient. He changed his website a 3rd time to make the copy less pompous and to remove the over glossy stock images he originally thought looked professional. He focused on the site's business aims and so finally had a clear and appealing "call to action" to book for a class. This greatly improved things, but then he give the SEO job to an overseas company who emailed him. After a boost in ranking, he finally disappeared from all relevant searches.
He even restarted Facebook realizing his mistake was not being social and connecting with others. Again he was in a hurry to get results. When he joined some Facebook groups he got accused of spamming. He was too quick to self promote his business and it came across as desperate. Even though Mike is a really kind and helpful person offline –  online he would hide behind what he thought made him look professional.
Mel 5 Years Later
Mel has gone from yoga instructor to the owner of a brand. Mike now runs the classes Mel used to do and she has two new schools. She spends most of her time expanding her online presence. She works on her business rather than in it.  Having produced quality content in the early days she has been able to repackage much of it again. She's turned some of it into short books on happiness and back troubles with yoga. This was self-published on Amazon. Her email list and a limited free offer allowed her to get early reviews making her more visible. Learning from others Amazon publishers she became a bestseller in her category.  Her books all have links back to more resources on her blog and she has expanded to include YouTube.
Additionally she has a new audience from sharing her experience starting a business. This has help her find staff  (Mike) and gain further authority in her industry. Finally she has started advertising. Not in local papers or radio, but with Google and Facebook. She is not wasting her budget paying for clicks that sends visitors to her generic homepage. She has very specific landing pages that match the exact promise of the ad. This helped her to fill the new yoga schools with customers. She also used Pay Per Click to give free resources and further build her email list.  Mel is thinking of going national as online she is starting to dominate the niche of health and yoga.


The Epilogue
Of course, these are fictitious characters. I've skirted over the research Mel would have needed to do.  No doubt she would have made her niche smaller than health and yoga. The point, however, is that this is what is happening.  New marketers are finding what consumers are actually searching for, building trust relationships and taking business from companies who are focussed on only selling features and benefits.  Digital marketer are recognizing that people are always searching for ways to a better version of themselves.  Of course, they are the same spenders as before – only it is far easier for them to scrutinise sellers.
The company that meets the needs of a potential customer without asking a return is not bad at business, they understand powerful human need to reciprocate.  They understand that people buy with their emotions and like to feel connected to those they deal with. It was this way for centuries before mass media.
Certainly digital marketing is not for the impatient. It requires longer term thinking. It forces companies to re-evaluate the true demand for their business and understand the 'pains' of their customers. The rewards for creating content and building relationships come slowly compared to mass advertising, but what's alternative?  Advertising, or "interruption marketing" was a relatively short-lived phenomenon of the last century.  Is flogging the last life out of it the way forward?
Over to you… have you started Digital Marketing?  Are you moving to a "customer-centric" approach?  I'd love to hear your thoughts below.