This has been a popular question in the Beaver Builder community. It's also one I have been wrestling with for a year. Did I come up with an answer?  No, of course not, but I made a decision. I'm starting to replace Genesis (my trusted theme for 5 years) with the Beaver Builder theme.  Here, I'd like to share how that came about, but let me start with my understanding of what others are saying.
Discussions in Beaver Builder's Facebook Group.
As you might expect the Beaver Builder theme is the most recommended theme on the Beaver Builder group.  Even those devoted to other themes will say it is a good option to check out. Typically the Beaver Builder theme earns praise for its:
Solid and lightweight structure
Ease of use (numerous speedy options conveniently properly placed in the WP customiser)
Excellent support
Compatibility with the Beaver Builder plugin
Ability to give many professional design freelancers and agencies everything they need.
But, there are also these comments:
The Beaver Builder theme is good for simple sites
It's a good choice if you're not a developer (The Genesis Framework often gets a mention here)
There are also free or cheaper themes (GeneratePress often gets a mention here).
Are these backhanded compliments? A hint there are better combinations out there? Let's turn these comments into supplementary questions and try to answer them.
Is the Beaver Builder theme just for simple sites?
No, we can still do anything WordPress will allow. A simple theme like Beaver Builder won't get in our way. It's strength is in being able to apply commonly needed design elements.  Good header and navigation options as well as some helpful ones for blogging and Woocommerce sites.
It's not a theme that specializes in complex post or custom post type based sites.  If you're intending to create complex directory,  blog or estate agent's site with lots of custom fields and taxonomies there are no easy click button options.  This is true of the other themes commonly used with Beaver Builder (Genesis/Dynamik Website Builder, GeneratePress and Headway)
Is Beaver Builder not the choice of Developers?
It's fine for developers. Beaver Builder attracts developers and "wannabe" developers like me (by that, I mean those of us who understand WordPress, can modify code, but are not programmers).
A sizeable bunch of us have a longer history with the Genesis "framework".  A solid theme that allows speedy child theme building and is considered developer friendly.  However a skilled developer does not need Genesis. They could just as easily work with the Beaver Builder theme.
The amount of Genesis talk in the Beaver Builder community is a reflection of this themes' long-standing. It does not in itself indicate a better combination. Even if it is, Genesis comes with a learning curve. If starting today, with the knowledge I would be mostly working with a page builder, I would struggle to find a reason to learn Genesis. I don't have the same need to work with widget areas.
Is the Beaver Builder theme expensive for what it is?
What stands out to many is the immediate value of the Beaver Builder plugin compared with its theme. If you are not a multi-site user you are paying double to get the theme. You also continue to pay yearly (with a 40% discount).  If you are someone who needs unlimited license GeneratePress and Genesis would cost less in the long run, although Headway would cost more.
WordPress pricing and licensing is often difficult. Support (not always needed) and updates (always needed) get lumped together.  Normally, I would argue to be able to get updates for life and to have the option to pay for support. Typically, I only report bugs.
However, Beaver Builder's record for support has been exceptional. For me, it has been more like having a developer friend helping out on my projects.  It goes beyond the usual liability a product owner has. If they had separated updates from support I would have probably missed out.  I feel I have underpaid for the value I've got.
I have moved from trusting a WordPress product (Genesis) to trusting a WordPress company with Beaver Builder. I no longer value things on a feature list alone and have a preference for companies where there is a stable team.


Why I'm adopting the Beaver Builder theme now.
It was so tempting to go for a drama title like. "Why I'm quitting Genesis!" but that is not the case.  I am still a Genesis fan. I am still a fan of Dynamik Website Builder (more on this later). My move to Beaver Builder has been a slow logical progression prompted by various developments.
The main thing is, I'm preparing to change the way I work. I would like to see my small business clients getting more involved in the handling of their content and rationalising of their design. I'd like to spend more time on  the marketing and messaging that often gets neglected.
With the full Beaver Builder package it becomes possible to work alongside clients quicker and keep a focus on the bigger picture. It's a move away from the usual "us" and "them".  A halfway house between DIY with SquareSpace (Wix or Weebly) and full agency style design processes which is beyond the budget of many. The things that tipped the balance were:
1. The Beaver Builder Shortcode
By Jan 2016 the Beaver Builder plugin gave us the ability to render Beaver Builder made templates in other areas of our chosen themes.  That was great for Dynamik users as we had quick code-free options to be able to (conditionally) display that content to theme areas. It was not perfect. It took further work or another plugin to get the template editing area working at full-width.
2. The theme developments of March 2016
They are summed up in this blog post  announcing the beta. It also followed a request to the community to give feedback on what was needed. Apart from containing a number of things that were time consuming to implement with Dynamik/Genesis I was not used to having a say.  Usually it has been the opposite where theme developers have been slow responding to their community.
3.  Beaver Tunnels
The arrival of Beaver Tunnels makes using the Beaver Builder shortcode and modifying theme content area easier.  It is nothing that can not be done with code, but here was a slick interface making everything quicker and easier. I would be able to make changes with a client present. They could manage it.
Of course It works perfectly with Genesis too, but the significance was an integrated Beaver Builder package was now more powerful.
4.  Bootstrap's popularity
This is a longer standing sense that I should be learning more about the (mobile first) Bootstrap framework used with the Beaver Builder theme.
5.  Guesswork on where our industry is heading
We know StudioPress don't intend to extend the functionality of Genesis. It's stable and they are leaving that to other developers. We know Dynamik added a page builder template to make working with Beaver Builder easier, but the code was borrowed from the community. It's since been a struggle to get any indication where Dynamik is heading. It's many theme options are now not required with Beaver Builder (confusing for clients) and they are not placed in the WordPress customiser.
But does Google Trends (at least on some level) indicate how the Page Builder and Themes industries are faring?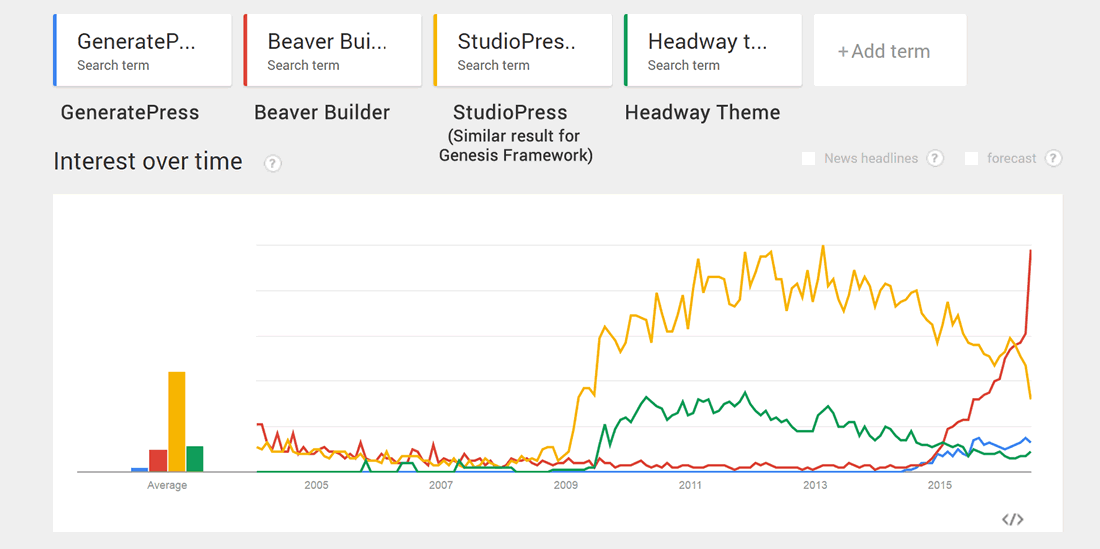 Why I'm nervous about publishing this?
Well, I'm quite thin skinned and this could attract criticism, but mostly because things change fast.  If I was writing this a year ago I may have strongly suggested that those with clients should check out Genesis and Dynamik Website Builder.
I also may be missing some important points. I have heard some claim better SEO with Genesis, but have not heard them substantiated. Others have mentioned accessibility benefits with Genesis. All I know there has been a recent accessibility improvement following some long-standing requests.
Finally I have skipped over GeneratePress and Headway. I don't have enough experience of them to pass serious comment. GeneratePress certainly seems a strong candidate.  Headway has long-standing respect as a site building theme, but for me, the move from Genesis to Beaver Builder is a decision to have better long term integration.
Update August 2017: Headway had problems and appears not to have recovered. I only see Headway fans in the Beaver Builder community who have moved on. GeneratePress  has grown in strenth and is becoming both an obvious alternative for Genesis developers (who also want something more suited to page builder) and also a very good alternative for beginners watching their budget but not wanting compromise. Amazing support and work is being done over at GeneratePress (I have just become an affiliate as I often now recommend it)
If there is a general decline in theme sales (as indicated in various places) what will theme owners do?  Will lifetime deals go to yearly (as most have)?  Will they create their own Page Builders (as some have)? Will they close down when the sales decline (as happens often at ThemeForest)?  My inclination to move my spending to the Beaver Builder community is a selfish one. It's where I want to see further development. It's where I have seen the greatest progress and possibly where WordPress is heading.
One last thing I would like to mention is Peter Luit's work in rationalizing theme options. Please check out his collection of test sites and resources.
Over to you… What theme do you think is the perfect companion for your Beaver Builder projects?