Here's an overview of the two client reports extensions available as part of the MainWP pro package.  Both are more customizable than they may first appear and can be used together.
As mentioned in my last video on MainWP  we consider client reports to be essential to our business,  but only to remind customers who we are and that we are doing something for them.
Up to now we have not bothered making our reports pretty. That's because after the first few reports they are ignored. It's just want people to do with regular emails that requires no action. Before I automated the sending, I offer some nice freebies just to see the response.
I hope to time to create some better styles reports to share at a later with those who are interested.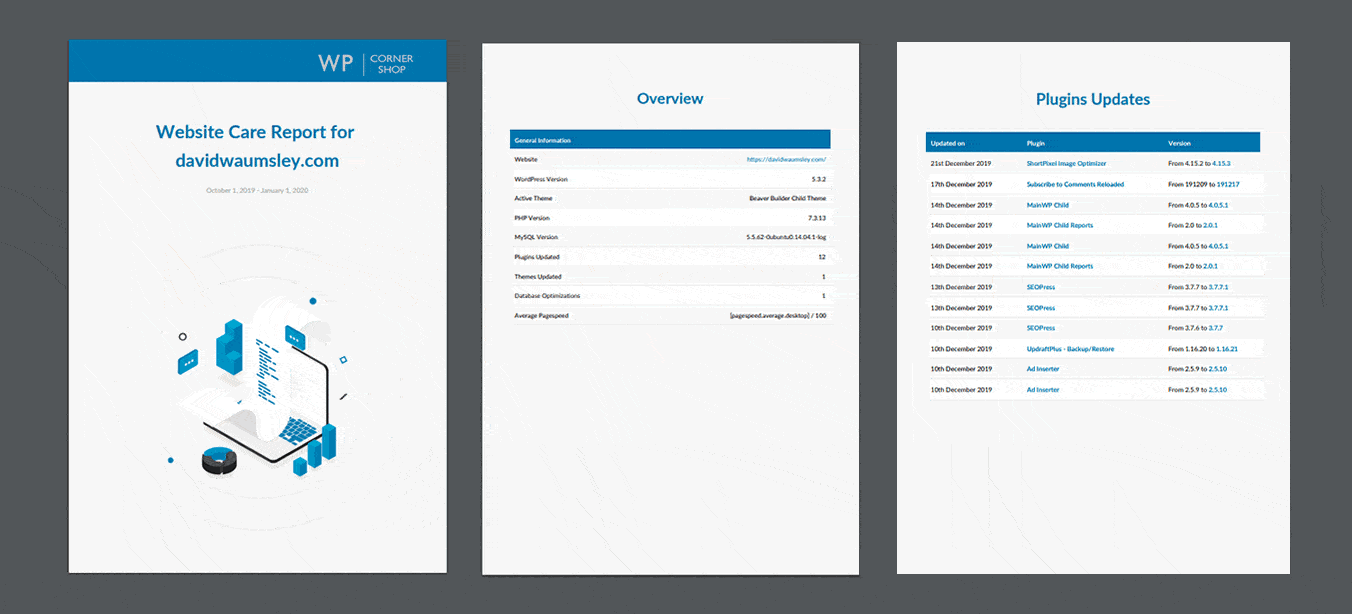 This is MainWP's new template engine. It comes with a choice of easy to brand template reports. Unlike the original client report extension which puts the information in body of an email,  this sent the report as a pdf attachment.
The real power here is in being able to create your own report templates. The skies are the limit for anyone with the time and a little HTML and CSS skills.
This allows you to create client emails as you would create a blog post using the WordPress Classic editor.  The difference is you have a field for the header and footer too which can be saved as templates You can generate a pdf version with this too.
Common to both is that:
They collect information via a plugin on the WordPress repository called MainWP child reports plugin.  This, when activated in child site, starts recording activity which can be viewed in a tab in the MainWP child plugin  (It's been handy when an issue is reported to see what users have done).It auto cleans from the database by default not to make that large, but you can set this. You can also set it to not report specific or all activity by certain roles here too.
They use MainWP tokens (like shortcodes) to output the desired information. Here is a full list of the available tokens   (the same  list is here under the Pro Report docs)
They allow you to make as many reports as you like which can be scheduled or manually sent to everyone, individual site owner or groups of site owners (we set up groups as our clients are on different plans)
They allow you to preview any or all of the client reports and send you a test version.
You will need to be sure your server can send emails. We use Mailgun because we host with Digital Ocean and have severs with Cloudways.  Often a SMTP plugin is needed.
Styling reports
I shall investigate more on what can be done by creating our own php templates with the MainWP Pro Reports extension,  but the existing one allow you add your own brand colors, logo and header graphics. It is much easy to get something looking styled than we had before.
However, the original client report only took a little imagination and some basic HTML and CSS skill to turn you reports in to something a little more pleasant on the eye.
A very generous chap called Joshua Vandercar from Typewheel has kindly shared how he styles his client reports with a little CSS here and here.
With the Pro Report the information collected depends on the extensions added and it's up to you what you want to hide:
Basic details
WordPress Version
MySQL Version
Active Theme
PHP Version
Theme Updates
Plugin Updates
Advanced Up-time Monitor (extension)
Sucuri (extension)
Backup plugins:
Backwpup
Backupwordpress
Backup Buddy
Updraftplus
Time Capsule
Google Analytics (extension)
Maintenance (extension)
GET 15% OFF MAINWP PRO with the "digitalfreedoms" coupon code. (updated 1/1/2022)