My website building business is rubbish. I'm not happy with the work or what clients have been getting.  I expected this. I had not found the right process for the right client.  Now I am ready to get serious and I thought I would share my journey.
The Master Plan
That's a bit grand for me, but I want to explain where I am coming from. I worked for a long time for large organisation. It was painfully slow to adapt to the digital world. There were too many meetings. Too many compromises. It was frustrating.  When I decided that I was going to build websites for a living I did not want anything like that. I did not want £10k+ projects. I did not want to deal with multiple stakeholders and dense legal contracts.
I did not want to be odd jobbing either. That's been fun while I have been travelling.  I had a safety net and could live cheaply in Asia too, but it could not be a long term plan.
What I needed was a business I could work on and grow. There's no grand ambitions to make a stack of money here, but I know I get bored easily and wouldn't be content only working in my businesses. I think I am at my best when I can stand back and have time to think of new ways to improve our services. Maybe I'm just lazy.
Clearly, if I was going to make something that could expand and employ others I needed to get more organised. I needed to document everything so to have processes that can be taught to others. This is really the Master plan. Nothing new about it, but it's helped me focus on what kind of web design service I should be offering and how it could be broken down.
The timing also seems right. Page Builders like Beaver Beaver  almost demand us to rethink web building services.  Now we have some serious developers tools that are also accessible to non coders. Surely things are going to have to shift?  Surely client expectations are going to grow?
The Web Design Process so far…
The diagram is a "work in progress", but shows the timeline for the new "productized"  process.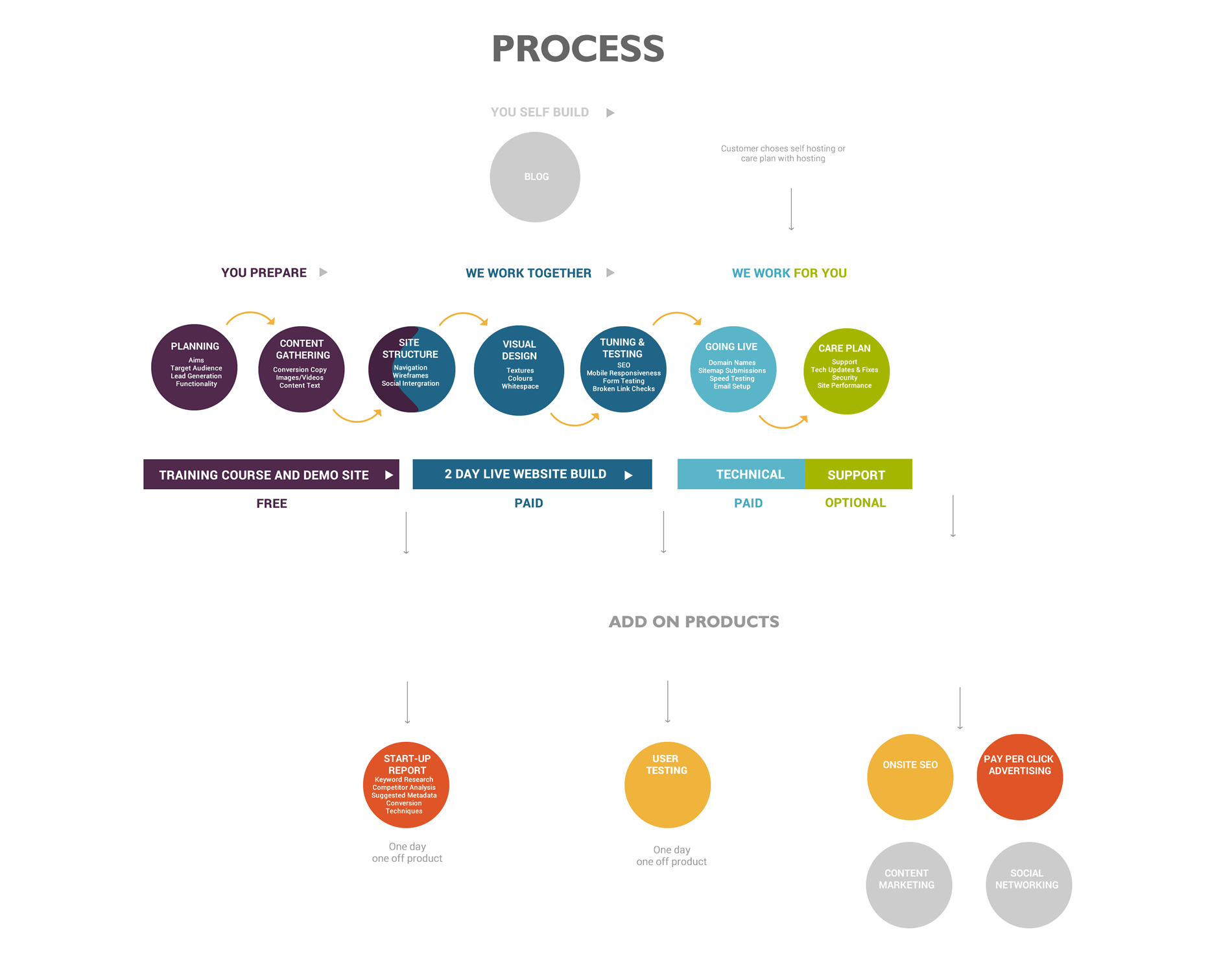 The key points
1.  The free video course acts both as lead generation for us and as a "discovery period" for the client.
The advantage for the client is they get to understand what is involved without any cost. They can take want they learn from it without having to work with us.
The advantage for us is we get clients that are better prepared. We'll only work with clients who have passed the simple course quizzes.
NB: This unlikely to be entirely automated.  We will need to answer"student" queries who will not become customers, but feedback should improve the course. The focus of the course will be very much of traffic and conversion which has typically been an afterthought to most of our clients.
2. The website is built collaboratively and the client learns to use a Page Builder.
The advantage for the client is they learn skills that could give them more autonomy.
The advantage for us  is we reduce the content adding job ourselves and can be more competitive with price.
NB: We have to make sure we explain the responsibilities that comes with the power of a page builder.
3. The success of this approach depends on how well the Care and Hosting plan can scale.
The advantage for the client is the care plans are competitive. If the client self hosts and pay their own software subscriptions it will cost them more.
The advantage for us is most tasks can be applied to many sites at the same time. We are only supporting the same software.
Coming Next
In the next videos and posts I shall be looking at my WordPress "Blueprint". This is the install of WordPress I will be starting all new projects with. It has all plugins installed and configured with some templating ready to save time.
Of course, it will be built around the Beaver Builder theme and plugin, but also and quite significantly around Beaver Themer too.